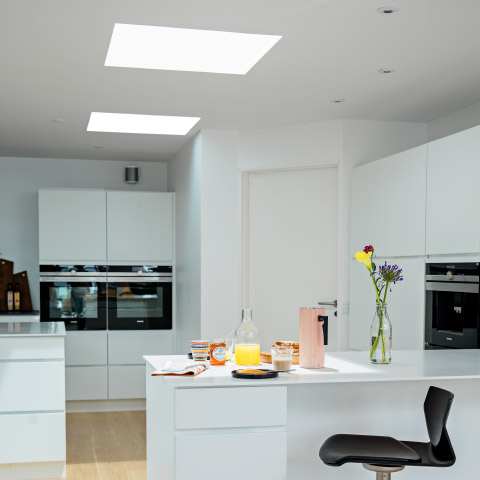 Glass rooflights for flat roofs are an expanding and now popular product within the VELUX range. Offering an attractive look and great insulation, they keep the rain out while letting the daylight in.
While VELUX may traditionally be associated with roof windows, glass rooflights are becoming more and more popular for customers with flat or gently pitching roofs. We hope you're also seeing the benefits of this enhanced VELUX product range.
So, why are customers choosing these products?
Curved glass rooflight – innovative and beautifully designed
This is the first ever flat roof window with curved glass and offers a premium choice for homeowners with an eye for brilliant design.
The attractive curved glass top unit consists of up to 6mm scratch-free glazing with a 'glass to edge' design that extends beyond the supporting frame for uninterrupted views.
Customer benefits include:
• Curved shape allows rain to easily run off.
• Insulating PVC frame and two-layer low energy pane means optimal energy efficiency.
• Three-layer glass construction ensures optimal energy performance.
• It's compatible with a discreet heat protection awning blind so a customer can create the ideal inside temperature.
Available in 8 sizes, it's the perfect solution for 0-15 pitched roofs. To find out more about curved glass rooflights, visit the product page on our website.
Flat glass rooflight – discreet and durable
Ideal for a range of flat roof extensions, VELUX flat glass rooflights are discreet and durable. The scratch-free 4mm tempered glass outer pane is surrounded by an aluminium profile for an attractive external experience.
Customer benefits include:
• Scratch-free glass gives great durability.
• Excellent noise reduction from rain, hail and other exterior disturbances.
• Insulating PVC frame and two-layer low-energy pane for optimal energy efficiency.
The flat top design complements the rooftop line and they are suitable for 5-15 pitched roofs.