Richard Jones wins latest bi-monthly competition
Every two months, our bi-monthly competition showcases the projects that you've been working on.
Once again, you've shared the photos of your projects up and down the country in the exclusive Certified Installer Facebook group, and we can now reveal who has won £100/€120 of VELUX Rewards in the latest edition of the competition.
CurveTech Flat Roof window wins latest competition
Thanks to everyone who posted photos of their jobs over the last couple of months.
Richard Jones wins £100/€120 in Rewards points. Callum Wyllie at VELUX says "Richard Jones makes excellent use of the extensive VELUX product programme by installing our CurveTech Flat Roof window to maximise the daylight into a previously dark space."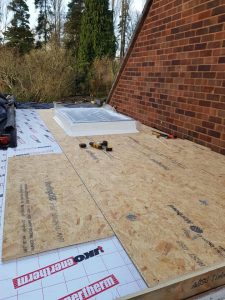 If you've completed an interesting project, please share photos of the job in the Facebook group.
Changes to the bi-monthly competition
We're making some changes to the way our competition works and will give you an update in the near future. It will give you a chance to win prizes and get involved in some great conversation with other Installers, similar to the World Cup competition in the summer. Keep an eye out for more information on this and watch this space!