See who won the latest bi-monthly competition and how you can get involved next time
Every two months, our bi-monthly competition celebrates the great projects that you work on.
Over the last couple of months, we've seen loads of your 'transformation' projects. These are the before/after photos that show how you've transformed a space with the help of VELUX products.
The latest round of the competition has been judged, and it's a great VELUX Cabrio Balcony that's our new winner.
William Milne wins latest competition
Thanks to everyone who posted photos of their 'transformations' over the last couple of months.
Eoghainn Mitchell of VELUX says "Room in the roof is perfectly shown by the work of William Milne. The VELUX Cabrio Balcony is used to brilliant effect, maximising the views of the hills and ocean – of course it helps when the sun is shining!"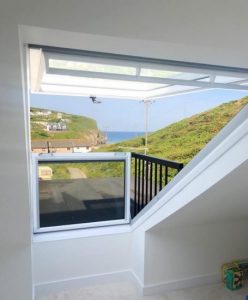 William Milne joins previous competition winners winning £100 in Rewards points
William Milne follows in the footsteps of Neil Hessian who won the last competition with a lovely VELUX Cabrio installation.
Neil won £100 in VELUX Rewards for his project, which he says he plans to spend wither in PC World or on Pizza Express garlic bread!
Neil was also delighted to see his name and photos featured in our most recent Perspectives magazine, and commented on how nice it was to be recognised for his work.
If you've completed an interesting project, please share photos of the job in the Facebook group. We look at all your projects and you could be our next winner! If you're not a member of the Facebook group, sign up here.