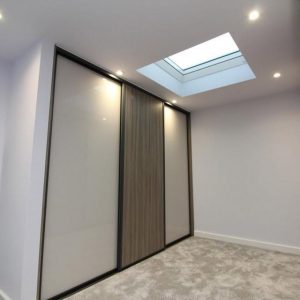 A few months ago, we launched a bi-monthly competition to celebrate the great spaces that you create.
Thanks to everyone who has submitted photos of their VELUX projects in the Certified Installers Facebook group. It's been really interesting to see the range of amazing jobs that you've worked on over the past few weeks.
We'll judge the competition every two months, so keep uploading your photos to the Facebook group to have a chance of winning. The latest round of the competition has been judged, and it's a great loft conversion that's our new winner.
VELUX Cabrio installation wins latest competition
A hip to gable loft conversion offering a beautiful view over Ash Ridge Woods is the winner of our latest competition.
The project undertaken by DJ Moore Lofts involved creating a light and airy bedroom in a bungalow in Berkhamsted, Hertfordshire.
The combination of three Cabrios and three flat roof Integra windows give both a welcoming look to the room and a beautiful view over local countryside.
Daniel Moore of DJ Moore Lofts says: "The VELUX Cabrio has been used to tremendous effect, with the triple opening installation allowing for maximum enjoyment of the beautiful panoramic views available.
"In addition to this, the combination of utilising the VELUX Flat Roof window to allow daylight to penetrate to darker area of the room."
Congratulations to DJ Moore Lofts who wins £100/€120 in Rewards points.
If you've completed an interesting project, please share photos of the job in the Facebook group. We'll collate all the entries every two months, and you could be our next winner!
If you're not a member of the Facebook group, sign up here.